Welcome! I am an Anaesthetist, Bestselling Author, Speaker, Show Host and an Alcoholic in recovery. I interview guests that have gone through hell and kept going. I talk to people who have had extraordinary experiences and learn from their lessons. I talk to ordinary people whose perseverance made them superheroes. This show demystifies mental health problems with the help of transparency, authenticity, humility and self-love. My guests and I explore ways how to deal with the daily challenges that life throws at us. Let's find answers on how to live a life that is so beautiful that yesterday becomes jealous of today!
Episodes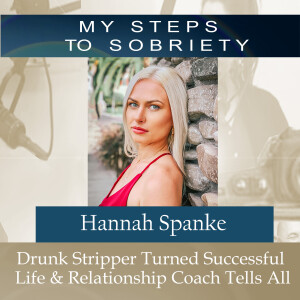 Friday Apr 07, 2023
Friday Apr 07, 2023
In Hannah's words:
"I would love to talk about how much happiness opened up for me once I allowed myself to live a sober life, and the troubles I overcame in the process, with the hopes of inspiring someone else to know they can do it too. Let's talk about how I got out of the sex industry and quit my addictions hand in hand, and why I wouldn't have been able to do one without the other."
Hannah Spanke is a Relationship & Life Coach, Board Certified Clinical Sexologist, and Licensed Authentic Tantra Practitioner who overcame a decade long addiction to alcohol, cigarettes and cannabis. Hannah now helps people heal from their darkest childhood traumas in order to achieve the happiness within themselves and their relationships that everyone really wants deep down. After nearly a decade in the adult entertainment industry, followed by years of study and personal healing, Hannah has a unique perspective on how to move forward and turn your pain into your power.