Welcome! I am an Anaesthetist, Bestselling Author, Speaker, Show Host and an Alcoholic in recovery. I interview guests that have gone through hell and kept going. I talk to people who have had extraordinary experiences and learn from their lessons. I talk to ordinary people whose perseverance made them superheroes. This show demystifies mental health problems with the help of transparency, authenticity, humility and self-love. My guests and I explore ways how to deal with the daily challenges that life throws at us. Let's find answers on how to live a life that is so beautiful that yesterday becomes jealous of today!
Episodes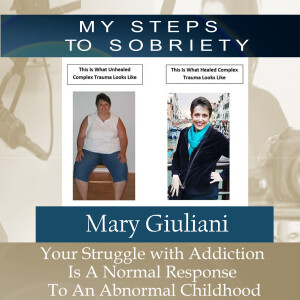 Tuesday May 09, 2023
Tuesday May 09, 2023
Mary Giuliani, with 20 years of experience as a successful life and business coach and online marketing executive, has identified that unhealed complex PTSD, also known as childhood trauma, was the root cause of her own struggles with food, obesity, alcohol, drugs, and relationships. With this insight, Mary is dedicated to supporting others in their journey towards healing by addressing the root cause of their struggles, and empowering them to live a life they love, free from the burdens of food, weight, substances, or close relationships.
Know more about here at https://marygiuliani.net/about/